Amber Flag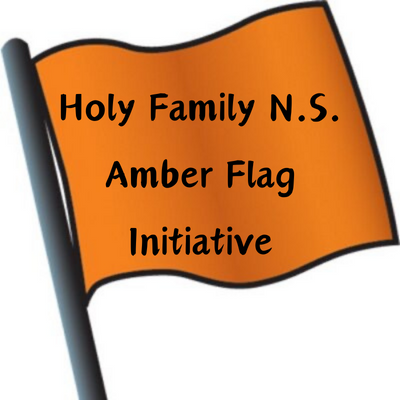 In order to promote positive mental health and wellbeing at Holy Family N.S., we have decided to take part in the Amber Flag Initiative for this school year 2023/2024.
The Amber Flag initiative is an initiative run by Pieta House which recognises the individual efforts of primary and secondary schools, youth reach, third level institutions, community groups, clubs and companies to create healthy, inclusive environments that support mental wellbeing.
Successful completion of the Amber Flag initiative involves the whole school community coming together in order to create a safe, positive and healthy attitude towards our general physical and mental health and well-being.
Our Amber Flag goals for 2023/2024:
1. Hold a Wellbeing Week to promote positive mental health and wellbeing in our community.
2. Hold a fundraiser to support Pieta's work and increase awareness of Pieta's services.
3. Promote physical activity as an important part of positive mental health.
4. Embed relaxation/ mindfulness/ resilience practices in our community.
We will be documenting all of our work on this page so check back in to see all the latest news!
27th Nov 2023
Our lines were very active at the end of our break times today! Active Lines are...
20th Sep 2023
First class really enjoyed a visit to a library where they took part in a Creative...
Holy Family National School, Tubbercurry, Co. Sligo, Ireland
Phone: +353 71 918 6291